Ninety-six percent of young children demonstrate a high level of creativity, yet only ten percent of adults consider themselves creative. I know you're still highly creative, but you may have forgotten how to tap into that vital part of your skill set. Helping you discover your innate abilities, your potential to innovate, and providing you with actionable take-aways makes me happy. I know tapping into your creative side will make you happy too.



Watch The Video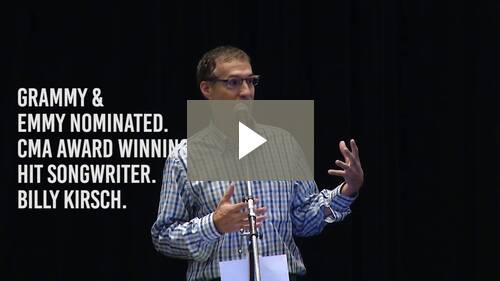 You are inherently creative, even if you have labeled yourself as 'not the creative type' – and faith in your creativity is vital because originality and innovation are key differentiators in today's competitive environment. Grammy & Emmy nominated, CMA & ACM award winning songwriter Billy Kirsch has harnessed the power of creativity to lead a successful life as an entertainer, songwriter and entrepreneur.
In this highly engaging, entertaining and interactive speaking presentation, Billy leads you through a step-by-step process that enables you to tap into your creative potential, identify your corporate or personal vision, and harness this to increase performance and results. You'll have a chance to create a shared story in this session, through music and song. You'll experience the power of positive brainstorming; learn how to generate more ideas and how to make your ideas become reality. You'll gain confidence in your ability to take risks despite fear of failure, and you'll come away with a concrete plan for integrating the practice of creativity into your life and work.
Learner outcomes:
Learn to identify and trust your creative instincts, a key tool to success
Tap into your hidden potential and increase your contributions to your team
Give voice to your creative ideas for positive results in problem solving and planning
Billy was an excellent choice for our opening Keynote speaking presentation. He kicked our meeting off in a creative way and got the camaraderie amongst our group working in a way that set the tone for our whole event! – Michele Freeman, Texas Association of School Boards, MPI Texas Annual conference