Tired of talking heads, restless participants and clock watchers? Our conference ice breakers and conference energizers will bring your event to the next level with our highly participatory and powerfully inspiring programs. Led by Grammy award winning hit songwriters, you'll create and perform a song that celebrates your company's culture.
Watch Our Video!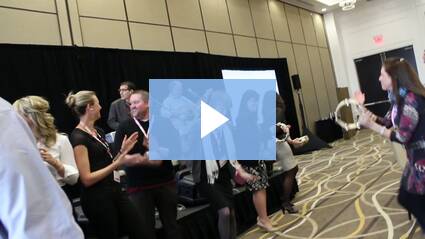 Create, Perform, Record and Download
From 30 to 90 minutes – From 50 to 5,000 participants.
With our band on stage and our hit songwriter-leaders moving throughout the crowd, everyone gets involved as ideas are shared and lyrics are projected overhead.
You'll create a powerful take-away, Your Song. When the song is complete, your entire group will perform and record it with our hit songwriters leading the way.
You don't have to be musical to have fun – Both introverts and extroverts will shine!
MP3s will be available for download within hours of your event.
The performance of your company song will become a lasting part of your group identity.
There is always a sense of skepticism in whether you can encourage a group of corporate-minded individuals to participate in this type of event, but our employees really got into the spirit and really embraced the process. The videos taken from iPhones say it all – more than half the group on stage singing their hearts out, laughing, dancing, playing harmonicas and tambourines and the other half also singing along and taking photos and videos. What an incredible atmosphere – an evening that nobody wanted to end and wonderful memories to share and enjoy with so many others! — Barry Noskeau, COO, ALTOUR